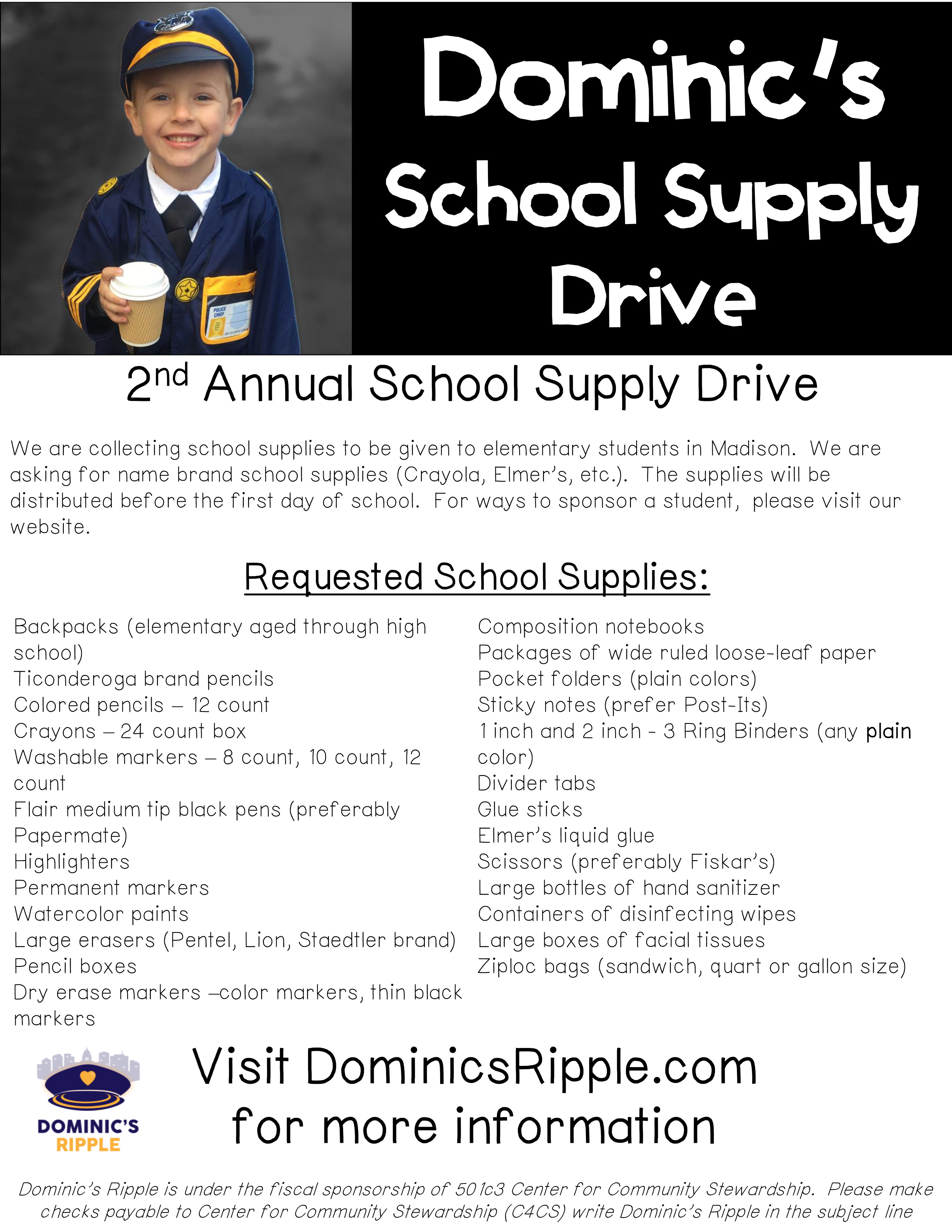 IT'S TIME FOR OUR 2ND ANNUAL SCHOOL SUPPLY DRIVE!
In the fall of 2018, Dominic would have started kindergarten. Shortly after his passing, we asked that backpacks and school supplies be donated in his memory, as a way to share Dominic's love of learning and inspire others to help give children in our community the school items they needed. Once again, this community became the ripple: More than 200 backpacks and hundreds of other supplies were donated!
This year, we are again collecting school supplies to be given to elementary students in Madison. We have set up several drop off locations around the Madison area, with the help of the Madison Police Department and Cress Funeral and Cremation Services. Chief Mike Koval shared information about the supply drive on his blog recently.
In addition to donating basic supplies, this year we've added the option to sponsor a student from John Muir or Carl Sandburg Elementary schools! Simply purchase the supplies listed and note that you'd like them given to a student (e.g., Kindergarten Student Package – Muir Elementary).
We are asking for name-brand school supplies (Crayola, Elmer's, etc.). They will be distributed before the first day of school.
Please drop off supplies/backpacks by: Friday, August 23
Drop off locations: (please check hours for drop-offs) 
MPD Central District – 211 S. Carroll Street, Madison
MPD East District- 809 S. Thompson Drive, Madison
MPD Midtown District- 4020 Mineral Point Road, Madison
MPD North District- 2033 Londonderry Drive, Madison
MPD South District – 825 Hughes Place, Madison
MPD West District – 1710 McKenna Blvd, Madison
Cress Funeral and Cremation Services- 3610 Speedway Rd. Madison
Cress Funeral and Cremation Services- 6021 University Ave., Madison
Cress Funeral and Cremation Services- 3325 E Washington Ave., Madison