By Madison Police Chief Michael Koval
I barely knew him except for a chance encounter at the Alliant Energy Center earlier this year. I was walking through the Kid's Expo to do a little community engagement on the weekend. It didn't take long before coming to the conclusion that my beloved PD was overwhelmingly beaten (yet again) by a Fire Department! There, standing in the middle of this circus, was the main attraction—big, red fire engines! Children with cool red plastic firefighter helmets were crawling all over the rigs as if they were ants at a picnic. By way of stark contrast, I believe we had a modest table display in an obscure spot with some coloring books and stickers. Not even close to a fair fight. Feeling defeated, I hung my head and uttered a silent vow to upgrade our kid-friendly give-aways and then made my final pass.
And then, he showed up out of nowhere. As if God (or least St. Michael—patron saint of police officers) had been commiserating with my thoughts and brought an angel to shake me out of my funk and to give me pause—all is not lost. Bolting from among the hordes of far-too-deliriously happy children playing on that damn red jungle gym came this determined blond-haired kid who seemed to lead with his chin. "Dominic," as he was subsequently identified by a doting grandmother, told me in no uncertain terms that he wanted to be a police officer when he grew up! Thinking that my years on the firing range were no doubt playing tricks with my hearing, I asked him to say again?? Dominic looked into my eyes and resolutely repeated his pledge to be a cop. Ever the cynic, I eyed Dominic over and saw that he wore none of the telltale signs of firefighting–no red helmet, no firefighting stickers—and I turned to his grandmother for confirmation. She nodded affirmatively; yes, it was true. Dominic loved to trick-or-treat dressed in a cop costume and he has always wanted to be a police officer!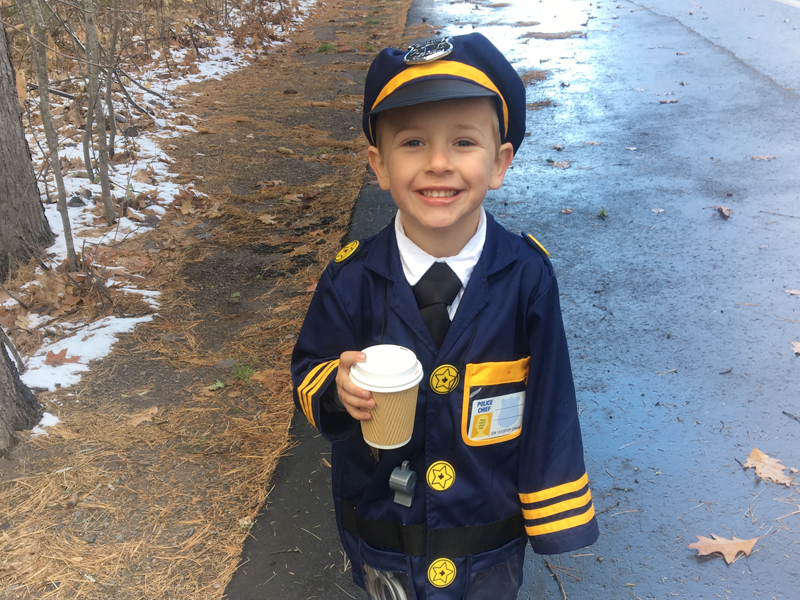 Be still my beating heart! I immediately ordered Dominic's grandmother to take a photo of Dominic and me. But first I had to properly deputize him and placed a sticker badge on his chest to make it official. We snapped a photo, both of us giving a big thumbs-up, and then I hugged him and bid him back to his adoring grandmother. In retrospect, I wish I had held onto him a bit longer … my own sons are full grown adults and as I relinquished my embrace of Dominic, it was transformative and made me feel better about life and myself. That little guy had bucked the masses and had sought out a police officer to proclaim his pursuit of a dream to become someone just like me? These days, those kinds of kids in this kind of world sort of stick out—you're not likely to easily forget someone who ignores the trend lines of what everybody else is doing. And such was the case for me after less than five minutes with Dominic.
Fast forward to Friday, July 13.  As I was working a few hours of Patrol before heading home for the night, I heard the call get dispatched to police and fire;  there had been an accident involving a small boy on the far west side. By the time I got to the scene, the paramedics had already transported the child, crime scene tape encircled the perimeter, and officers, detectives, and firefighters walked around as if their shoulders bore the weight of the world.  I was just getting briefed by one of our patrol cops when I was contacted by a woman who came out of her nearby home, visibly upset and crying. From a distance, this woman looked familiar but I could not immediately place her?  Then she and I grabbed onto one another in a long hug. The woman was sobbing and asked whether I remembered her.  I had to admit that though familiar, I could not, for the life of me, recall the context?  Then it all came together when the woman stated, "It was at the Kids Expo, earlier this year. . ." And I knew.  It was Dominic's grandmother. Dominic was the child who had been struck by a neighbor's backing vehicle in a freak accident. And then I cried right along with Dominic's grandmother.
On Wednesday of the same week, I had just "celebrated" my 35th year of working in law enforcement.  Over the years, every imaginable and unimaginable sight/sound/smell has been processed and experienced. Through it all,  your training kicks in and you function on auto-pilot until the call is over. My employees will tell you that I tear up when I see them put to the test or lament about them getting bad news or get remorseful for the things I should have said or done for a member of my family. I thought that I had long since abandoned crying at a scene of a police incident. But this wasn't just a tragic call, this was Dominic and that made it different for me this time.
So what triggered this response that I had thought dormant if not altogether dead? Perhaps it's because my oldest son and daughter-in-law blessed us with our first grandchild just a few months ago and then seeing the pain of loss in Dominic's grandmother. Maybe it's because of the zest for life and the vigorous determination that I saw in Dominic at the Kid's Expo on that fateful weekend. Or maybe it's because Dominic was representative of that hope for the future that I and so many of my colleagues are praying for in a profession that's used as a punching bag these days.
I am learning from Dominic.
I am learning from Dominic and his family. I am learning that each day is to be celebrated and consecrated as a blessing from God.
I am seeing how family and friends and complete strangers are capable of circling the wagons and loving the life that Dominic provided, which in turns inspires us all to try to love more. I am seeing forgiveness and reconciliation and healing—all in the name of Dominic.
If you read Dominic's obituary, you'll soon discover values and priorities that most of us adults have lost sight of:  trust and childlike innocence, the benefits of play, making and nurturing friendships, pure joy and unconditional love.
I know that Dominic's picture will remain in my phone (and in my heart) forever, particularly on those days when the ways of the world seem oppressive and I can feel a "pity party" coming on …
Dominic's story has also served to galvanize complete strangers whose only common denominator has been to offer comfort and consolation to his family.  Dominic's spirit and his quest to be a police officer has literally mobilized the protective services family.  From our own Department and well beyond, cops and deputies, firefighters/paramedics, ER personnel, (and the list goes on) all have asked to play a role in celebrating the life of a five-year-old who managed to bring a whole host of us  together. When Dominic is laid to rest in this temporal world of ours today (Monday), at the request of the family, I have approved the use of our MPD Honor Guard to act as the pallbearers. Following the funeral, Dominic will be accompanied by a multi-agency motorcycle procession to the cemetery.  All befitting honors that are accorded to someone who has been given an honorary membership as a police officer with MPD.  Thanks for your gifts of how to live a life worth living, Dominic.