"LOVE GROWS"
The preschool that Dominic attended, PreSchool of the Arts, has celebrated his life in several ways. They had planted a tree in the spring and Dominic suggested naming it Woodsy. So they created an area around Woodsy with a bench to sit on and a garden rock in memory of their friend Dominic.  The different seasons have brought in plants: an evergreen in the winter and daffodils in the spring.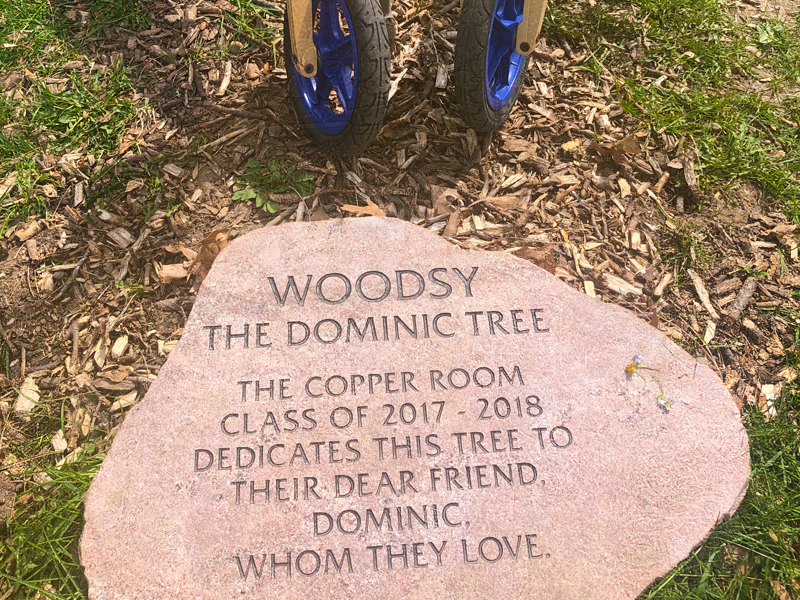 The halls within the school carry reminders of Dominic as well. There are photos of him with tributes to his positive spirit. ​This past fall, a preschool from Illinois had heard Dominic's story. They presented PreSchool of the Arts with two scoot bikes with police written on the side. The license plates were engraved with Dominic's name.  
The preschool was so touched by his story that they asked their school board if they could reach out to PSA. The director travelled to Madison to present the bikes during a school wide sing along in Dominic's honor. They sang one of his favorite songs—"Love Grows."
The song leader that day is also a composer and vocalist. Since then, he has composed two songs to honor Dominic. One has already been recorded.  The instrumental will be produced at a later date.