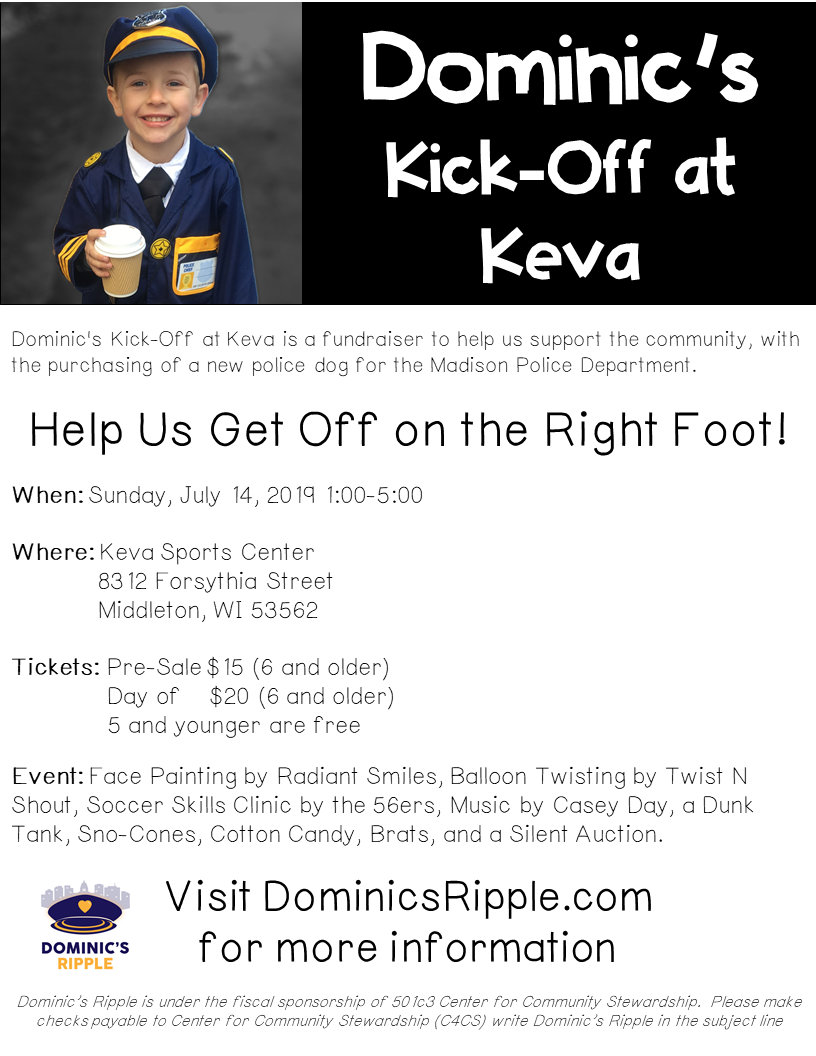 DOMINIC'S KICK-OFF AT KEVA: THANK YOU TO OUR SPONORS!
We are just days away from our first Dominic's Kick-off at Keva Sports Center in Middleton. Save the date and see you on July 14 (1:00 –5:00 pm)! The outpouring of support has been incredible, and we thank everyone who has reached out asking how they can help us. We want extend our graditude to the many sponsors that have made a commitment to this event:
Goal Keeper
Omni Financial
City Supply
Concerno
Defender
Brenan & Kristen Baxter
Merrill Lynch
Forward
J&K Security
Children's Dental Center of Madison
Ron Krantz
Cress Funeral and Cremation Services
Universal Home Protection
McKenna Family Fund-Madison Community Foundation
Wells Print & Digital Services for providing all the printing, Andler's for providing food, and KollegeTown Sports for apparel.
Join us for this fundraiser that honors Dominic's love of his community and desire to become a police officer. Proceeds will go toward the purchase of a new police dog for the Madison Police Department. Enjoy a soccer skills clinic by the Madison 56ers, a celebrity dunk tank, silent auction, music by Casey Day, face painting by Radiant Smiles, Balloon Twisting by Twist N Shout, great food, and more! Tickets (ages 6 and up) are $15 pre-event, $20 day of the event (ages 5 and under are free).
If you're interested in volunteering, contact us here!